Tue, April 14th, 2020 at 12:48 PM EDT
Tue, Apr 14th, 2020 at 12:48 PM
Like so many of us puppeteers, I've lost all of my scheduled gigs for spring
*
, which is usually my busy season along with fall. I had built a brand new puppet to debut this spring, but with the cancellations she's not gotten to go out anywhere except for the last local Atlanta Puppetry Guild meeting. So, I'll have to give her an online debut instead. Please say hello to
Persephone Penguin
: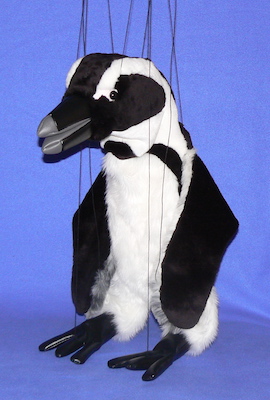 Persephone is a south African penguin who loves to dance, though she's still learning how. My thanks to Bob Abdou, Lee Bryan, Tricia Berrett, and anyone else at the last guild meeting who gave me advice on her stringing. This was my first attempt to build a marionette with an upright controller, so it was a big learning experience. After sifting through the ideas and moving some strings and connection points around, the controller is now working wonderfully.
While there's not much left that we can do away from home these days, we can still go out for exercise and I'm fortunate to live an a fairly walkable neighborhood. So, I've been taking
Poe Possum
, one of my hand-and-rod puppets, with me on walks and (from a safe distance) greeting others who are also out walking. Not quite the same as working a festival, but it's better than doing nothing and seems to help bring out much needed smiles.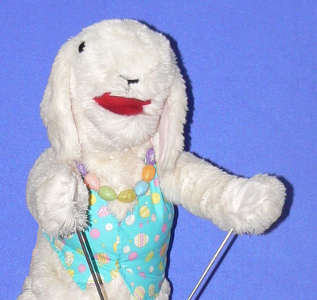 Last week, I celebrated Easter by switching to
Flip Flop, my lop-eared rabbit puppet
, for whom I recently made a lovely Easter vest to go with the Easter egg necklace that he's had for a number of years. I'd bought the fabric to make a new vest for my white rabbit costume character, who normally acts as the Easter Bunny's eggstra special assistant in my neighborhood. That, of course, got cancelled, so I decided to put the fabric to better use for the time being.
P.S. I'm not taking any bookings right now since I don't know when it will be suitable to resume public performances. In the meantime, please visit the
Center for Puppetry Arts
' online offerings and support them during this time when they unfortunately have to keep their doors closed and their stages dark.
*
Please don't feel concerned for me: I have a full-time IT job that is not threatened by the shutdowns, so I'm in perfectly good shape financially (mentally is another issue, but I don't think any of us are feeling too good on that front right now…) Please do keep in mind those puppeteers who make their living performing and are out of work right now. If you know one and can help him or her, please try to do so.
Mood: nostalgic
Category: General Puppetry
Permalink: http://forestpuppets.com/blog/view/19