Mon, October 17th, 2016 at 10:32 PM EDT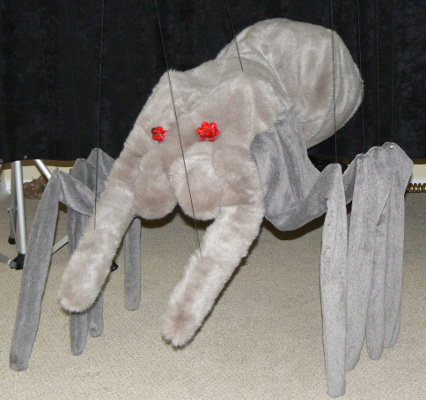 This Halloween season, I debuted a new first of it's kind puppet for me that also has roots going back over ten years:
Terrence Tarantula
, who is a rather large marionette.
Back in 2005, I created a large costume puppet tarantula that walks on all eights. I performed this character walking on hands and feet using hand stilts to balance myself, much the same as with my triceratops, billy goat, and arctic fox. The costume tarantula was very popular, but after four years of working with him, I had grown tired of lugging the rather large fourteen pound costume around to do performances. So, I retired him and built a flying fox fruit bat to take his place for Halloween events.
< More ... >
Mood: chipper
Category: General Puppetry
Permalink: http://forestpuppets.com/blog/view/9