Sat, February 23rd, 2019 at 05:19 PM EST
Hard as it is for me to believe, I've been doing puppetry and building puppets for over sixteen years now, and during that time I've built nearly seventy-five puppets. Over twenty of them are fully-body costume-puppet (AKA body puppet) style characters, which I've always loved, but as one gets older it isn't as easy to climb into these giant things and bring them to life like you can in your twenties and early thirties.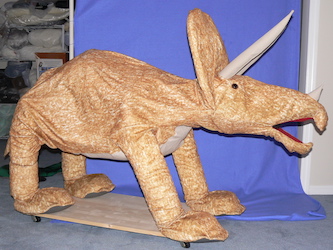 That's not to say that I don't do costume character performances at all any more - I certainly do. Just not as many, and about half of my characters of this style are now retired for various reasons. A few got worn out from being popular, and some others just didn't quite work out in terms of designs. For example, I once made a
giant tree-frog costume
where I got down on all fours and hopped like a frog. I'd found I could do that pretty well at home, but didn't realize what my body would feel like after three thirty-minute sets of hopping in one day! That was the first and last time I used the tree frog in public.
Another retired costume character that got a little more time in the limelight was
Triton the Triceratops
. Inspired from seeing the triceratops in the
Dinosaurs!
show at the Center for Puppetry Arts, I'd been wanting to make a similar quadruped triceratops since 2003, but didn't get to the point of having the right opportunity and skill set until 2009, when I developed Triton to use at a local natural history museum.
Triton was definitely a hit, but he was a pain in the neck for me - literally! Try as I might to lighten his head, I just couldn't get the weight down to a comfortable level, and ultimately I started having neck muscle pain that still haunts me to this day. It's not chronic in the sense of hurting every day, but it doesn't take much now to irritate those muscles and get them hurting. Thus, Triton was retired after just one year of roughly every-other-month appearances. I soon disassembled him and packed most of him in a large plastic bin, but after a while I started thinking about him and wanted to do something useful with him.
<
More …
>
Mood: chipper
Category: General Puppetry
Permalink: http://forestpuppets.com/blog/view/11