Tue, November 17th, 2015 at 12:00 AM EST
Tue, Nov 17th, 2015 at 12:00 AM
It's been a while since I debuted a brand new character, but after months of hard work I'm thrilled to introduce
Roopert the Kangaroo
: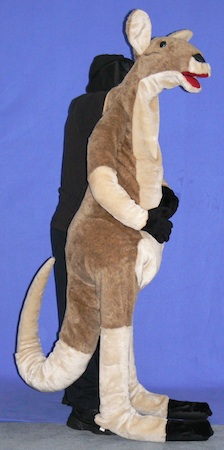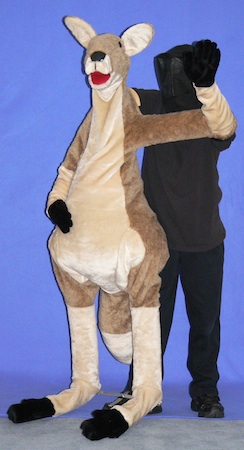 Roopert represents a new direction for me, for while he's as large as many of my costume-puppet creations, but he's not a costume-puppet. He's a special style of oversized mouth-and-live-arm puppet inspired loosely by the animal characters in the Lion King Broadway show.
I'm hoping to develop a scripted performance around Roopert next year, but in the meantime he's available for general
walk-around meet-and-greet
. If you'd like Roopert to appear at your next event, he'd be more than happy to
hop on by
.
Mood: bouncyish
Category: Announcements
Permalink: http://forestpuppets.com/blog/view/6